HOTARC provided radio communications in support of this annual event sponsored by the
that involves about a thousand participants and volunteers. This year's
This day-long event accommodates riders of many abilities with courses of varied lengths:
—all of which are supported by rest stops, SAG vehicles, and—radio communications.
This event requires many volunteers in the pace cars and at the many rest stops around the course. Amateur radio operators at each rest stop permits relaying of timely progress information as well as break-downs and injuries, need for supplies, and so forth. APRS trackers installed in the pace car and all the SAG vehicles send GPS-derived location data back to the trailer, allows Net Control to know the current location of these vehicles.
Although this event is well "planned," it contrinues to be an excellent training opportunity for Net Control operators, remote radio operators, APRS tracking operations, and also the Bike Club folks.
page for past runnings of the WWW100 (aka WWWC). The tables below provide more information about exact rest stop locations, station assignments, and other event milestones.
APRS Tracker Details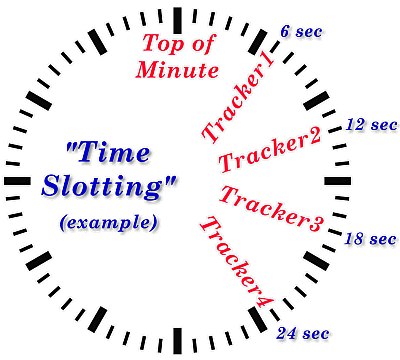 We install APRS trackers into as many support (SAG) vehicles as we can, and this greatly aids our coordination efforts. The
TinyTrak
used in most of
our trackers
includes a secondary configuration setting that we use for many special events. This mode sends out a position report every X minutes, at a specific "slot" of time (seconds) during each cycle. This "time slotting" helps prevent multiple trackers engaged in a spread-out special event from accidentally sending packets at the same time, and still allows for "uncoordinated" trackers to slip in. The table below details our plan of "time slotting" for this event.
For this event we operate APRS on the much quieter 147.500 MHz, set up several digpeaters to hear remote trackers, and also have an i-gate to upload our positions to the APRS database. This last step allows anyone with Internet access to
follow our Trackers
—even Waco Bicycle Club members using their smartphones! (Click map image here.)
Wild West Century Bike Ride 2015

Primary Frequency --> 145.15 (123 tone) Backup Frequency --> 442.875 (123 tone)
APRS --> 147.50

Position
Location
Name
Call
Approximate Time
Total Time
Tracker & Digipeater
Install & Control
Indian Springs Park, Waco
Roving Location
Clint Anderson
Chamberlain, John
AE5CA
AC5CV
6:30 am - ???
Net Control Shift 1
Indian Springs Park, Waco
(cell 254-744-9966)
1. Ed Hynan
2. Rodney Baden
3. Paul Collins
1. KC5KNI
2. K5YKC
3. KG5DHS
FIRST SHIFT SHOULD BE AT THEIR POSITION AT 6:30 A.M.!!!
Net Control Shift 2
Indian Springs Park, Waco
(cell 254-744-9966)
1. Ed Hynan
2. Mike Needham
1. KC5KNI
2. WB7SKK
11 am --> 3 pm
Net Control Shift 3
Indian Springs Park, Waco
(cell 254-744-9966)
1. Mike Needham
2. George Gremmell
3. Ed Hynan
1. WB7SKK
2. K5NSA
3. KC5KNI
3 pm --> 5 pm

10.5 hrs
100-mile Pace Car
(100 mile)
Starting Line
John Chamberlain
AC5CV
7:00 am – 1:00 pm
4 hrs
Rest stop #1
(25, 50, 65, 100 mile)
Flat Rock Rd & FM1637
(corner across from gas station)
Feltenberger, Bill
KD5UEW
8:15 am – 10:15 am
2 hrs
Rest stop #2
(25-mile)
Parking lot access to Hike & Bike Trail (near dam)
Jud, James
KA5QKL
9:00 am – 11:00 am
2 hrs
Rest stop #3
(50, 65, 100 mile)
Baylor Camp Road @Eichelberger Circle
Adams, Keith
KG5AWC
8:45 am – 12:15 pm
3.5 hrs
Rest stop #4
(50, 65, 100 mile)
Speegleville Road @ FM3047
Bush, Ruth
Bush, David
KF5PGT
KC5UOZ
9:45 am – 4:15 pm
6.5 hrs
Rest stop #5
(50, 65, 100 mile)
593 Ritchie Road
Hancock, Michael
N5TCC
10:00 am – 5:00 pm
7 hrs
Rest stop #6
(50, 65, 100 mile)
West Robinson Baptist Church
828 Moonlight Drive
Robinson, TX
—
—
9:00 am – 11:30 am
2. 5 hrs
Rest stop #7
(65, 100 mile)
Elks Lodge
Crawford, TX
Williams, Terry
KD5KJU
9:45 am – 12:15 pm
2.5 hrs
Rest stop #8
(100 mile)
Oglesby Fire Department,
Main Street & FM 1996
Cransfield, David
AF5CH
10:15 am – 2:15 pm
4 hrs
Rest stop #9
(100 mile)
Intersection of CR344 & CR342
—
—
10:45 am – 2:45 pm
4 hrs
Rest stop #10
(100 mile)
5655 Mother Neff Parkway
Weixelbaum, Craig
Garreston, Bud
KF5WBE
AD5SK
10:15 am – 2:15 pm
4 hrs
Rest stop #11
(100 mile)
6001 Caufield Ranch Rd.
—
—
10:45 am – 2:45 pm
4 hrs
Trailer
Move trailer to and from event.
2 hrs