News
<!a name="breakfast"><!/a>

---
Ham Coffee Break
9:00 AM each Saturday morning (if nothing else is scheduled) we're meeting for a cup of coffee and a chat (and brunch, anyone?) at Griff's Grill at the intersection of China Springs Highway and Wortham Bend Rd (beside Chevron gas station). The topic list is wide open! We're just getting together to "shoot the bull," and would love for as many Club members, other hams, and guests to participate as are interested.

If we expect large numbers, we'll call ahead for a table, so feel free to drop a quick email to Ralph W5RWR if you're planning to be there. That said, don't hesitate to come because you didn't send an email—if you find yourself able, we'd love to see you!


---
HOTARC Members Meeting
HOTARC will hold its next Meeting of Members on Thursday, April 27th at 7:00 PM. The Club normally meets on the fourth Thursday each month at the W5NCD Workshop near the southern end of Chapel Road in south Waco (12272 Chapel Rd, Lorena, TX). Our meetings include a few minutes of regular business, entertaining radio-related discussions, an interesting program or presentation—and, of course, plenty of friendly fellowship with other area hams!
Otherwise, do you have a question about our Club, about our amateur radio hobby, or about using your ham radio equipment? Look over our web site, and/or attend the next Club meeting—a great opportunity to get answers, or be pointed in the right direction to find an answer. Read the current HOTLINE (issued the weekend prior to the meeting) for more details about this month's meeting. Family members and visitors—especially those interested in becoming hams or joining the Club—are always very welcome!
---
Ham-Com
Ham-Com, an annual hamfest in the Dallas-Fort Worth area, will be held on June 9 and 10 at the Irving Convention Center at Los Colinas (click link for map). See the Ham-Com web site for more details, including times, parking, speakers, admission, volunteering, scout activities, etc., etc.


---
Field Day 2017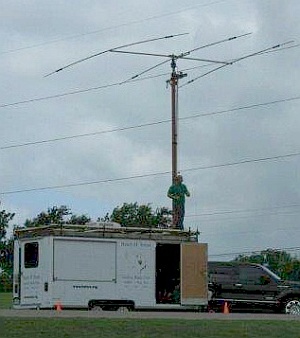 Field Day is always the last full weekend of June. This year that means June 24 & 25, 2017— did you miss it?! We have Hewitt Park reserved for this year's Field Day event.
Every HOTARC member: please look over the Field Day Rules and see how you can contribute to making our 2017 Field Day a bigger success than previous years.
If you have some ideas and/or are willing to help, for example, by committing to staying on site during the wee morning hours (a great time to make HF contacts!!), please contact Clint AE5CA.
Getting everything ready for Field Day can be as much fun as Field Day itself! Start gathering and preparing your equipment now. Make your plans now to attend and participate in our Field Day, and remember to invite your family and friends to stop by for a visit.


---