News
---
Ham Coffee Break
9:00 AM each Saturday morning (if nothing else is scheduled) we're meeting for a cup of coffee and a chat (and brunch, anyone?) at Griff's Grill at the intersection of China Springs Highway and Wortham Bend Rd (beside Chevron gas station). The topic list is wide open! We're just getting together to "shoot the bull," and would love for as many Club members, other hams, and guests to participate as are interested.

If we expect large numbers, we'll call ahead for a table, so feel free to drop a quick email to Ralph W5RWR if you're planning to be there. That said, don't hesitate to come because you didn't send an email—if you find yourself able, we'd love to see you!


---
HOTARC Members Meeting
HOTARC will hold its next Meeting of Members on Thursday, September 28th at 7:00 PM.
The Club normally meets on the fourth Thursday each month at the W5NCD Workshop near the southern end of Chapel Road in south Waco (12272 Chapel Rd, Lorena, TX). Our meetings include a few minutes of regular business, entertaining radio-related discussions, an interesting program or presentation—and, of course, plenty of friendly fellowship with other area hams!
Otherwise, do you have a question about our Club, about our amateur radio hobby, or about using your ham radio equipment? Look over our web site, and/or attend the next Club meeting—a great opportunity to get answers, or be pointed in the right direction to find an answer. Read the current HOTLINE (issued the weekend prior to the meeting) for more details about this month's meeting. Family members and visitors—especially those interested in becoming hams or joining the Club—are always very welcome!
---
Race for the Cure
HOTARC is often asked to provide radio communications in support of this annual fundraiser and public-awareness event that involves several thousand participants and volunteers from the central Texas area. This is one of the nice, quick, usually-cool, Saturday-morning events that allows you to get back home before lunchtime, so won't you consider volunteering?
This year's Race for the Cure is scheduled to begin in downtown Waco on September 30, 2017 with the 5K runners heading out around 8:30 AM from the 3rd Street starting line in front of the fountain. The 1-mile runners/walkers start several minutes later.
Both 5k and 1-mile courses are quite simple this year: simply heading up University Parks and back. Although a relatively simple walk/run event, this event is very popular and crowded. If you can volunteer just a few hours of your time to support this worthy cause, help us showcase our favorite hobby, and practice your radio skills, please contact Jim Stovall KG5KGV.
For this event, we usually use 147.55 simplex around the Start/Finish line area, and the Baylor Club's (BARC) 147.16 MHz (tone 123) repeater for more distant stations on the course. Please have your radio(s) ready to use and monitor the assigned frequencies.
Radio operators should plan to arrive at your assigned station and be ready to communicate with Net Control between 7:45 and 8:00 am. NOTE: Park your vehicle off the main roadway—in a parking lot or on a side street (not University Parks). Downtown parking around the Start/Finish line is limited, so consult the Komen-provided maps. Our participation should be over by 10:00 am.
Our station locations and assignments will be available as the date draws nearer. Please volunteer today, and then stay tuned!
---

CQ CQ all YLs!
The 63rd Annual Party for the Texas Young Ladies Round-Up Net (TYLRUN) will be in Seminole, OK on Friday & Saturday, October 6-7, 2017. Beth Pearce KC5RWW will be the hostess for this year's party. We'll start around 4 PM on Friday with a social, dinner, and white-elephant gift exchange. On Saturday, we hold a short business meeting, and have cake and coffee/drinks before we adjourn around 2 PM. OMs are welcome and encouraged to attend.
The purpose of this organization is to foster, encourage, and advance the hobby of amateur radio telephony among licensed female amateur radio operators. TYLRUN was organized November 1954 in District 5 by Pat Parks W5TTU. Pat was an invalid who was homebound, and so did not travel often. With the help of several YLs and others in Dallas, YLs were contacted on the air and by post card and invited to meet on the air. The outcome was TYLRUN. Alma Lang AB5BA (SK) of HOTARC was a long-time member of TYLRUN.
Membership is open to any YL holding an amateur radio license. The annual fee is $5. YLs with a General Class license or above meet on the air Thursday mornings at 8 AM on 3947 KHz, with Judi Jaksa W0JJ serving as Net Control.
If you are interested in additional information about this group or information about the Annual Party, please contact Linda Hynan AC5QQ.
---
2017 Waco Wild West 100 Bike Tour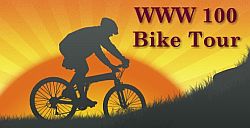 HOTARC will provide radio communications in support of this annual event sponsored by the Waco Bicycle Club that involves several hundred participants and volunteers. This year's WWW100 will be held Saturday, October 7, 2017 near Indian Springs Park in downtown Waco, starting at 8:00 am. This day-long event accommodates riders of many abilities with courses of varied lengths: <!a href="http://www.mapmyride.com/routes/fullscreen/1261726822/">9 miles, <!a href="http://www.mapmyride.com/routes/fullscreen/1200447217/">27 miles, <!a href="http://www.mapmyride.com/routes/fullscreen/1200552508/">53 miles, <!a href="http://www.mapmyride.com/routes/fullscreen/1200607417/">68 miles, and <!a href="http://www.mapmyride.com/routes/fullscreen/1200576691/">103 miles—all of which are supported by rest stops, SAG vehicles, and—radio communications.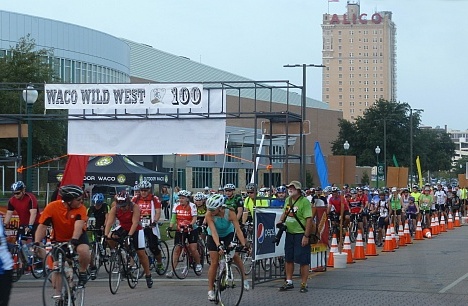 This event requires many volunteers in the pace cars and at the many rest stops around the course. Amateur radio operators at the rest stops permit relaying of timely progress information as well as break-downs and injuries, need for supplies, and so forth. APRS trackers sending GPS data back to the trailer allows us to see the movements and current location of significant vehicles, such as the various pace cars and SAG vehicles. In past years—and this year there is some interest—we have included SSTV and even fast-scan TV (honestly, just for the fun of it!). We sometimes include some Mesh applications.
Although this event is well "planned," there are still plenty of surprises for us every year, and it is an excellent training opportunity for a real disaster that would require radio communications from remote locations—all reporting vital information back to and coordinating with a Net Control. Please contact Jim Stovall KG5KGV to volunteer to help with this event.
For those interested, here's how we configure the APRS trackers for special event tracking (from a previous event), and the course map files (zip) used by the APRSIS program. (Note: Easy to install; harder to setup and use. Allow a couple weeks to learn!)
See our Special Events Archive for previous runnings of the WWW100 (aka WWWC).
---
HOTARC/BARC Amateur Radio Testing
HOTARC and BARC (Baylor ARC) are pleased to offer amateur radio testing to the general public and fellow amateurs. Our Volunteer Examiners will deliver an ARRL-VEC test session in the near future, but there is no testing scheduled for October at this time. Please check back later for our next session date.
At these test sessions, you can earn (or upgrade) your amateur radio license by simply passing a short multiple-choice exam. For some hints on preparing to pass the exam, see our FAQ page.
Please bring with you to the test session:
For Your First License
or
For Upgrading Your License

1) Testing fee of $15 (cash only); and
2) Two current photo IDs.


NOTE: Upgrading? We must have copies, as indicated above, for our records.

For further questions, or to let us know you plan to come,
contact Linda Hynan AC5QQ by email OR by phone: 254-666-4873.
*CSCE is an official proof of previously passed FCC exam(s), valid up to 1 year. If you already have your current FCC license, then we don't need the CSCE—just a photocopy or printed Reference Copy How to get & print your FCC License
1. Click now for FCC ULS License Search.
2. Search your callsign; click it when found.
3. Click on Reference Copy link to start download.
4. Print the downloaded pdf. of the current license. But suppose, for example, you recently passed a license exam, and have not yet been granted the new FCC license. If you come to take the next higher license exam, we'll need a photocopy of the CSCE as proof that you have passed the previous exam.
---
Contact us: