News
---
Time to Renew your HOTARC Membership!
For current HOTARC members, it's time to renew your Club membership! According to our bylaws, annual dues are due on January 1 of each year (we'll accept renewals up to March 31). As approved by the Directors this year, dues for Full Members remain at $30/yr; for Associate Members only $15/yr; and no charge for Family Members (along with a paying Member). (See the Club By-laws for more details.)
You can now use PayPal to quickly, easily, and securely pay your HOTARC Member dues right now!
Also, please help us keep our records up to date (email, phone numbers, family members, etc.) by completing the short Membership Renewal Form (html version or pdf version), along with your dues payment. You can mail, or email, or just bring it to the next meeting. Thanks for your continued support of HOTARC! We are glad to be YOUR Club!
---
Ham Coffee Break
A few HOTARC members have started a tradition. Come, and join us! Around 8:00 AM each Saturday morning (if nothing else is scheduled) we're meeting for a cup of coffee and a chat (and brunch, anyone?) at Griff's Grill at the intersection of China Springs Highway and Wortham Bend Rd (beside Chevron gas station). The topic list is wide open! We're just getting together to "shoot the bull," and would love for as many Club members, other hams, and guests to participate as are interested.
If we expect large numbers, we'll call ahead for a table, so feel free to drop a quick email to if you're planning to be there. That said, don't hesitate to come because you didn't send an email—if you find yourself able, we'd love to see you!
---
HOTARC Members Meeting
HOTARC will hold its next Meeting of Members on Thursday, February 28 at 7:00 pm. The Club meets on the fourth Thursday each month at the W5NCD Workshop near the southern end of Chapel Road in far south Waco (12272 Chapel Rd, Lorena, TX). Our meetings include a few minutes of regular business, planning for upcoming special events, entertaining radio-related discussions, usually an interesting program or presentation—and, of course, plenty of friendly fellowship with other area hams!
Otherwise, do you have a question about our Club, about our amateur radio hobby, or about using your ham radio equipment? Look over our web site, and/or attend the next Club meeting—a great opportunity to get answers, or be pointed in the right direction to find an answer. Read the current HOTLINE (issued the weekend prior to the meeting) for more details about this month's meeting. Family members and visitors—especially those interested in becoming hams or joining the Club—are always very welcome!
---
Baylor Bearathon 2019
HOTARC members have offered to lend our radio communications skills to support the Baylor Student Foundation as they hold their annual BEARATHON. This year's event will be held on March 23, 2019, starting at 8 AM, with race support lasting until 12 PM, with the Start/Finish Line at McLane Stadium. The half-marathon course, and shorter 6k course, give over 2500 runners from across the state opportunity to test their stamina, support the Foundation, and compete for cash prizes and medals in several divisions, as they run from McLane Stadium, through the Baylor campus, into the scenic roads of Cameron Park—and back.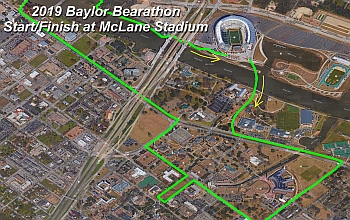 Click the Bearathon logo (above) and map image (below) for more details. Our radio-communication positions are usually at each mile/rest stop. Texas springtime weather can be unpredictable for this event, but the event sponsors intend to hold the event rain or shine—
except
for reports of lightning in the area.
For this event, we plan to use the
BARC
repeater:
147.16 MHz (tone 123).
NOTE:
Transmitting from deep within Cameron Park, you will need more than a handheld radio with stock antenna—consider a better, higher antenna, or use a mobile rig. Also, be prepared to use BARC's 442.450 (tone 123), simplex 147.55, or HOTARC's 145.15 MHz (tone 123) and 442.875 MHz (tone 123). Check back here for station locations and assignments (see below), and other late-breaking announcements. To volunteer please contact
Clint Anderson
.
Assignments:
See also official Bearathon maps at MapMyRun with mile markers, 3D video track, zoomable, etc.
(Hint: Use
)
---
Technician License Exam Prep Classes
HOTARC is making plans to again assist folks living in the central Texas area to earn their first amateur radio license and participate in the exciting hobby of amateur radio!
This will require several hours of studying on your own, but then HOTARC members will deliver lively an all day classroom instruction and question/answer session to aid you in understanding and remembering the content that will appear on the FCC license exam.
Immediately following—while the material is still fresh in your mind—Volunteer Examiners (VEs) will be on site to administer the FCC Technician Class exam. The FCC requires that you simply score 75% or better on the 35-question multiple-choice test!
---
HOTARC/BARC Amateur Radio Testing
HOTARC and BARC (Baylor ARC) are pleased to support ARRL VEC Amateur Radio testing for the general public Saturday, March 30th at 3:00 PM at the W5NCD Workshop located at 12772 Chapel Road, Lorena, Texas 76655, near the intersection of Chapel Rd and Old Lorena Rd in south Waco. This is the same location used for our monthly Club meetings (see map).
At these test sessions, you can earn (or upgrade) your amateur radio license by simply passing a short multiple-choice exam. For some hints on preparing to pass your first ham radio exam, see our FAQ page.
Please bring with you to the test session, either:
For Your First License
or
For Upgrading Your License

1) Testing fee of $15 (cash only); and
2) Two current photo IDs.


NOTE: Upgrading? We must have copies, as indicated above, for our records.

For further questions, or to let us know you plan to come,
contact by email OR by phone: 254-666-4873.
*CSCE is an official proof of previously passed FCC exam(s), valid up to 1 year. If you already have your current FCC license, then we don't need the CSCE—just a photocopy or printed Reference Copy How to get & print your FCC License
1. Click now for FCC ULS License Search.
2. Search your callsign; click it when found.
3. Click on Reference Copy link to start download.
4. Print the downloaded pdf. of the current license. But suppose, for example, you recently passed a license exam, and the FCC has not yet issued your new FCC license. If you come to test for the next higher license, we'll need a photocopy of the CSCE as proof that you have passed the previous exam.
---
Contact us: