Club Events
---
Current / Recent Events
---
2021 Waco Wild West Bike Ride — SATURDAY OCTOBER 2
Official Course Maps & Turn-by-Turn Instructions


HOTARC Files

<!a href="https://wacowildwest100.com/routes/#25-mile-route"> 27-mi map
<!a href="https://wacowildwest100.com/routes/#51-mile-route"> 55-mi map
<!a href="https://wacowildwest100.com/routes/#100k-route"> 77-mi (100k) map

2021 map
(all courses, all stops)

2021 Assignments

Before the event <!a href="https://www.hotarc.org/.secure/" title="Members Only: See special event box at top.">Sign Up Here!

Final
Assignments
HOTARC provides radio communications in support of this annual event sponsored by the Waco Bicycle Club that involves several hundred participants and volunteers. This year's WWW Bike Ride was held Saturday, October 2, 2021, starting in Indian Springs Park in downtown Waco at 8:00 am. This half-day event accommodates riders of many abilities with courses of varied lengths: 10, 27, 55, and 77 miles—supported by several rest stops, SAG vehicles, and radio communications provided by HOTARC members.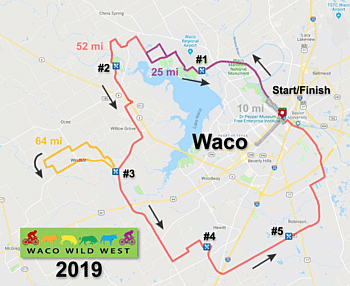 (Click above for larger image.)
This event requires volunteers in the pace cars and at the many rest stops around the course. An amateur radio operator at each rest stop permits relaying of timely progress information as well as break-downs, injuries, need for supplies, and so forth. HOTARC member's APRS trackers provide GPS position data for Net Control and others to track the movements and current location of significant vehicles in real time, such as the Sherriff's pace car and <!a href="/events/WWW100-2018/SAG vehicles.pdf" title="list of planned SAG vehicles">SAG vehicles, as depicted in the image here of a previous event (all the tracks from the event!).
Although this event is well "planned," there are still plenty of surprises for us every year, and it is an outstanding training opportunity for a real disaster requiring radio com­mun­i­ca­tions from several remote locations—all reporting vital information back to and coordinating with a Net Control.
For your information, here's how we configure the APRS trackers for special event tracking (with examples from the 2015 WWW event), and the course map files (for example, from the 2016 event) used by the APRSIS program. (Note: APRSIS is easy to install; not so easy to setup and use. So, give yourself a couple of weeks to learn BEFORE your event!)
See our Special Events Archive for previous runnings of the WWW100 (aka WWWC).
---
Past Events
---
HOTARC Field Day Archive (including *PSA's)
A collection of info and photos from Field Days gone by...

Special Events Archive
A collection of info and photos from some other special events we've done.

Boy Scout Radio Merit Badge
Materials we have used to help young Scouts earn their Radio merit badge.

*Public Service Announcements
---